Make a Donation
Make a Difference
PRC does not receive any federal or state funding.  Our organization exists from the generosity and involvement of people like you, with every contribution going towards making Pregnancy Resource Center an even better Non-Profit Organization than it already is. You can choose to be a monthly supporter or make a one-time donation.  Please don't hesitate to contact us with your questions.
Click here to see PRC's Paypal Giving Fund site.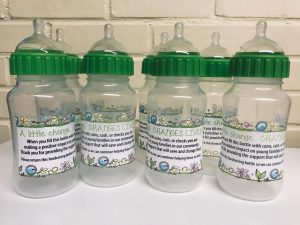 So Many Ways To Help!
Grace Room Shower
You can help by hosting a shower or drive for much-needed baby items to fill the shelves of the Grace Room! This is a great way to involve your friends, church, or business, too!
Baby Bottle Boomerang
PRC will provide baby bottles for you or your organization to collect change and monetary donations in!
Volunteer Your Time
It takes many hands to keep the PRC running! From client advocates to fundraiser organizers, there is somewhere You can volunteer!