I think I may be pregnant…
For some, this possibility brings about joyful tears and excited anticipation.  However, for others, the delay of a monthly cycle or other potential pregnancy symptoms bring about fear and a million questions.
If you think you may be pregnant, your first step is to take a deep breath.
Next step…
Next, call or stop by the Pregnancy Resource Center to take a 100% FREE pregnancy test.  At the Center, you will have a client advocate collect some information and explain the procedure for the test.  You will have someone to wait with you, discuss all your potential options, and make sure you are fully supported.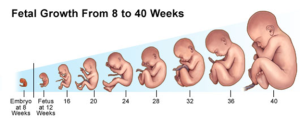 Don't panic!
If you are pregnant, your client advocate can help assist you determine how far along in your pregnancy you are.  You can even see 3D models of how big your growing baby is.  You will need to schedule an appointment for prenatal care.  This typically takes place when you are about 8-10 weeks pregnant.  This appointment is longer because the obstetrician is creating a full workup with labs and general medical information.  At this time, your doctor will determine if your pregnancy is at a higher risk and will set your future appointments up accordingly.  It's a good idea to start writing down any questions you have for your doctor.  Don't be afraid to ask them anything—that's their job!
We're here to help…
Throughout your pregnancy, (and even after the baby is born) you can continue visiting the PRC for educational classes, nutrition courses, and baby items you will need.  You can earn Mommy money each visit for things such as: attending your class, completing Bible studies, and even attending church.  With this Mommy money, you will visit the Grace Room to purchase any baby supplies you need.  The Grace Room is fully equipped with diapers, wipes, clothes, car seats, breast pumps, and cribs.
You are not in this alone!
This pregnancy journey isn't easy; it's scary but yet exciting all at the same time. Having a support team in place is key. The valuable resources offered at the Pregnancy Resource Center will help you conquer your greatest fears while equipping you to be the best parent to your little one.